Pinnacle Peak is a moderate out-and-back trail through the Sonoran Desert.  It is located within the 150-acre Pinnacle Peak Park operated by the City of Scottsdal Park District.  Rock climbing skills are needed to reach the summit of 3,169 feet.
A few facts about Hiking Pinnacle Peak:
Trail Length:  1.75 miles (One Way)
Highest Trail Point:  2,889′
Lowest Trail Point:  2,366′
Note:  There are no facilities along the trail.
To view the Trail Maps and find out more information and FAQs, here are a couple of links to get you started: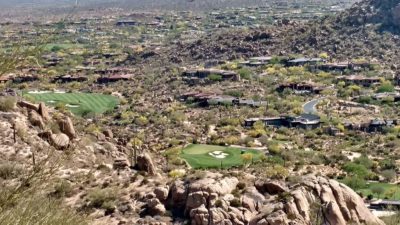 Photo taken near the Owls Rest. The Estancia Club golf course photos were taken from the highest trail point 2,889 feet. If you go all the way to the fence past the end point (trails still continues) it's about 2 miles each way